It's almost Christmas. Obviously, this doesn't come as a surprise to you; you're well aware of this fact! And with Christmas comes new years. New years, I must say, is one of my favorite "holidays" out of the year. I'm that weird person who's obsessed with productivity and time management so I love looking back on the year and reflecting on what I accomplished. I'm going to take some time today to do just that, and you get to read it! In this post you'll find the stories behind the creation of the 3 most popular patterns that I have on Ravelry. I'm measuring popularity by the number of favorites each pattern has. I think it'll be fun to look back in a few years and compare the numbers. :)
Let's go!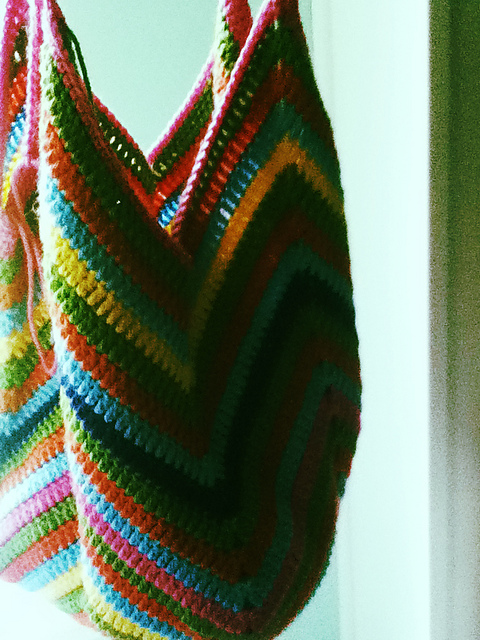 Man, this thing. I published it August 3rd, 2013. I had NO idea it would do as well as it has. So how was it created? Well, if you look back even just a little bit on this blog, you'll see that crochet used to be my main focus. I started out as a crocheter and have slowly made my way into the knitting realm. There was one point when I was sitting right in the middle; I was just as much knitter as crocheter. I remember there was a pile of colorful yarn laying on the table (always a dangerously inspiring situation). This yarn was destined for
this
bag, the solid granny square bag, which is crocheted (picture to the left). You can get more information by clicking the link, but the simplified explanation of the construction of that crocheted bag is this: Crochet a square made in the round, increasing on each of the four corners until the base is as large as you want. Then, just stop increasing and crochet the sides straight up in the round. I loved crocheting these bags, but this particular afternoon the idea dawned on me to try knitting it. The (sort of) same construction could be applied. And ta-da! About a month later, tulip was born! It's a super simple pattern which yields an absolutely stunning how-did-you-do-that kind of result. I love it.
NOTE: That's not my picture!! One of my favorite things about this pattern are the magical things that people have done with it. One of those magical things is featured above.
This pattern was born out of necessity. It was published on February 5, 2012 (WHAT EVEN) around the time of my Japanese flower OBSESSION. I was seeing them everywhere (emphasis placed on
this
particular post from Lucy of Attic24) and I needed to make some of my own. The problem was that I couldn't seem to find a pattern in English that looked the way I wanted it to. So I made my own by zooming in on (what else?) Pinterest photos. I think it came out quite nicely, and apparently other people think so too! Yay! Find the free pattern
right here!
This thing is one of my favorites. Who am I kidding; they're all my favorites, but this one holds a pretty high rank. After publishing Tulip and realizing people really enjoyed the whole "chevron" thing, I decided to play around with it some more. I knew I wanted to make a garter shawl, and I knew it had to have really inventive construction, while still being dead simple. I sat down with a pen and a fresh notebook and started doodling and playing with yarn. A few months later, I had a finished product. It was finally published on June 6th, 2014.
Also, throughout the process of knitting this, I was engrossed in the Legend trilogy by Marie Lu. If you've ever read this, you know it's dangerously addictive and heart-wrenching and beautiful and suspenseful and and and (can you tell I'm still emotionally attached??). Anyway, the navy yarn I knit the shawl with (Knit Picks' Capretta) is named "Admiral." If you've read the Legend books you know how nicely that name pairs with the storyline. I was quite pleased with myself throughout the process and I still call this the Day and June shawl in conversations sometimes. :) (Appropriately, it was published on a day in June!)
There you go folks! There's a peek into how my brain works. I like taking multiple things from different creative worlds and mashing them up into one grand combo (or at least I hope it ends up grand!).
I look forward to the new year and all the patterns I'll meet :)
I may or may not blog next week (bc Christmas) but I'll try to get something up for your guys!
Merry Christmas,
Grace